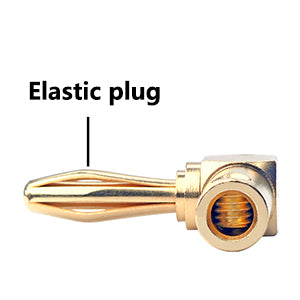 Attention
The banana plug is with good resilience and it fits 4mm banana jack.

Please push it harder the first time you using it.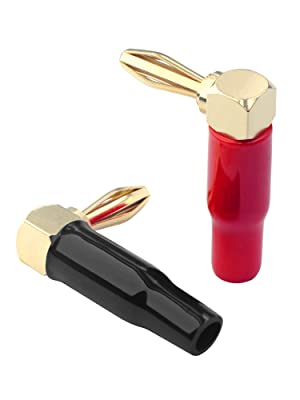 90° banana connectors
VCELINK 90 Degree Speaker Banana Plugs
Easy to installation / Great connection
VCELINK banana plugs make speaker installation simple.

They are designed for the spaces where a traditional banana plug will not fit to minimizes the risk of cross terminal contact that may cause shorts.

Compatible with speakers, A/V receivers, amplifiers, surround sound systems and banana wall plates that use banana style binding posts.
Package Includes: 8 × Banana Plugs(4pcs red + 4pcs black)

Feature & Material
24 K Gold Plating

Open Screw Type

No soldering required

Brass Body Construction

High-density plastic sleeves
High Quality Components

 


24K gold plated connector for a lifetime of use.

Prevents corrosion and insures a smooth connection.

 


Dual Screws Locking

 


2 set screws secure the speaker wire to the banana plug.

No crimping and no soldering required.

A small screwdriver is the only extra tool you need for terminating the wires.

 


Color Coded

 


Conveniently color coded with two different colors for easy polarity identification.

Shielded soft rubber sleeves with strong insulation and corrosion resistance, which have much longer service life.