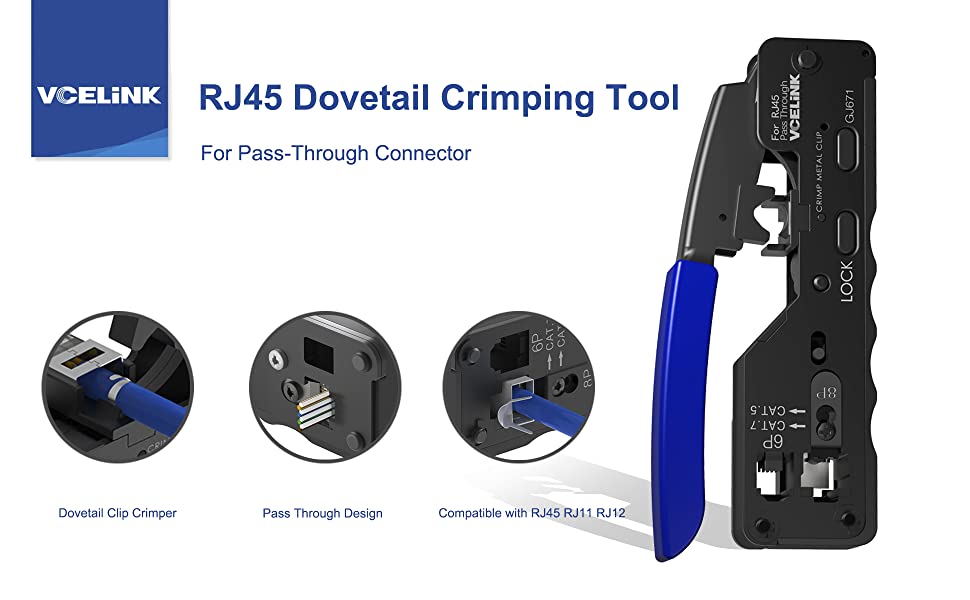 VCELINK RJ45 Pass Through Multi Modular Dovetail clip Crimper
Multi Function:
Used for pass through design connectors , crimp the connector and cut the extra wires , another function of crimping dovetail clip,which is helpful for crimping modular plugs with feed-thru design and dovetail clip at the same time
High Precision:
High-standard precision crimping and grinding port, fixed modular plugs to make network cable does not fall
Built-in Cat7 to Cat5 Switcher

Switch from Cat7 to Cat5 crimping by using a screwdriver to loosen then switch up or down to change the compression mode.

 

The Cat7 mode stands for Cat7 shielded plugs crimping.

Cat5 mode stands for Cat5e and Cat6 plugs crimping

 

Built for Pass-thru Network Connectors

 

Crimps RJ45 (Data) and RJ12 RJ11 (Voice) fixed die cavities, supports Cat5 Cat5e Cat6 Cat7 Ethernet STP/UTP cables, twisted pairs, phone, voice and data cables crimping.

 

Built for Dovetail Clip

 

Specially design for Cat6a Cat7 shielded connectors and even crimp the metal clip on the plugs.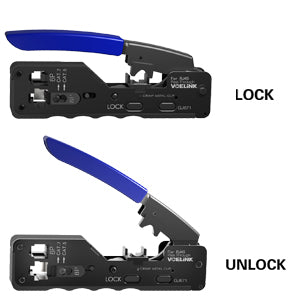 Compact Design Modular Crimper
One hand operation with rust resistant blue oxide coated steel core.

The compact size fits in any pocket, tool pouch.

Recoil spring loaded ergonomic matte handle returns tool to ready position upon cycle completion helps you save time and effort.