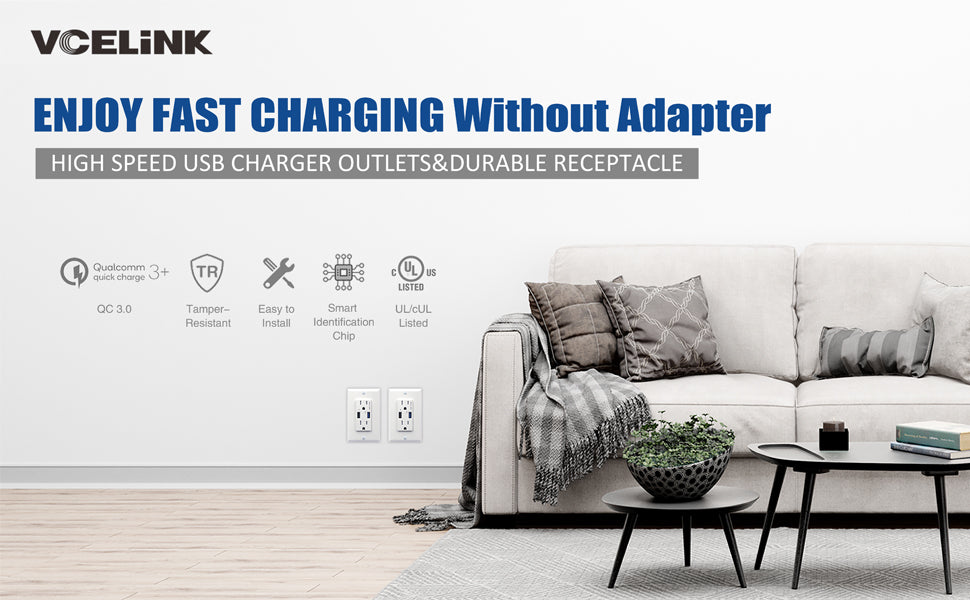 Quick Charger 3.0 USB Wall Outlet,Dual High Speed 4.2 Amp USB Ports with Smart Chip
4.2A 2-Port USB Charging
The USB port Compatible With Apple products、Android products and other USB Type-A devices,just use it without concern.

When used in a single port, it can output a maximum current of 4.2A.
Smart-intelligent identification chip,Automatic identify the charging current that the device required.
Multiple Protection
The Two Tamper-Resistant safety outlets are anti miss-insertion which avoiding the electrical shock
Kindly Note:
The USB 3.0 port supports fast charging (note:the charging device also needs to support fast charging will achieve fast charging)

This devices is to be installed in a wall box measuring at least 3" x 2" x 2-1/2"(standard single gang electrical wall box) and wired in accorandance with NEC article 314 box fill requirements.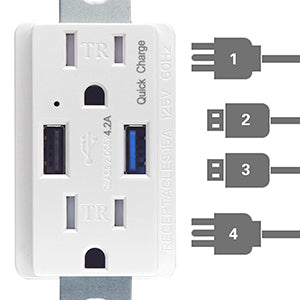 High Speed Charging & Free Up Space
Users can charge up to two devices simultaneously

Large spacing panel, plugs do not need to compete for space

"Smart" USB port will read the device's power requirements for safe and effective power output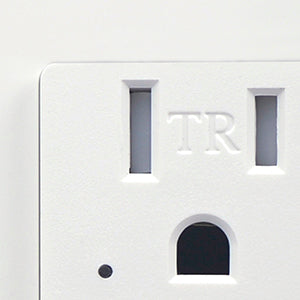 Tamper-Resistant
Tamper-resistant duplex receptacle increases safety by preventing unwanted objects from being inserted into the outlets

Flame Retardant PC Material, pass the 750 degree glow wire test, effective flame retardant and anti-combustion, safe to use
Home Widely Use
From the bedroom to the commercial building, from the cafeteria to the library, VCELINK USB Charger Outlet is perfect for any application.

Good for Living room, office, bedroom, school and other public areas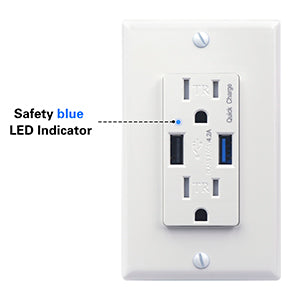 Common Issues
They are approved for the American and Canadian electrical standards,just use it without concern.

Tamper-resistant receptacles comply with 2011 National Electric (NEC) requirements

The USB port can charge laptops such as MacBook and is compatible with high-speed charging smartphones.

Safety Blue LED Indicator remaining there's AC power when in dark