VCE Single RCA Keystone Insert with White Center Jack Wall Plate
The VCE RCA Keystone Jack inserts provide a secure and quick way to connect an RCA cable to your equipment with RCA ports. These commercial grade inserts provide a time-saving and tidy alternative to running long RCA cables across the floor.
Quick and easy to install
Without the need for too many tools, all you need is a standard screwdriver.
Well Matched with the decoration style
Contemporary shiny design of these face plates provides a professional visual enjoyment.

Gloss finish without recessed lines make it easy to clean.

White matches your home decoration style.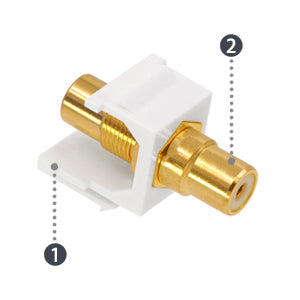 Reliable Signal Transmission
Secure snap-in clip

Gold-plated housing
Standard rca port, run rca cable through a wall

Ideal for subwoofer, stereo receiver, or other equipment with rca component audio and video ports
Superior Construction

 

UL certified(E363400) standard size faceplate with universal keystone port.

Fire-retardant housing for a safe install.

Heat, fade, Impact resistant. highly durable.

 

Toolless Connection

 

Easy snap-in installation of keystone jacks.

You can simply replace the keystone for future upgrades, cost savings.

 

Cost-Effective 2-Pack

 

2 x Wall Plates

2 x RCA Keystone Jack Inserts

4 x Screws