VCE Pass-Thru RJ45 CAT6 Modular Data Plug
"VCE Pass Through 8P8C CAT6 Gold Plated Ethernet Connectors" are designed for fast, reliable installations for Category 6 networks.

DIY RJ45 cable connector termination solution for making custom length Ethernet patch cords.
Note:
Suitable for wire OD ∅0.93 ~ ∅1.04, multi-stranded and single-stranded cables 23AWG .

Package Contents: 50pcs x VCE Pass-Thru RJ45 CAT6 Modular Data Plug.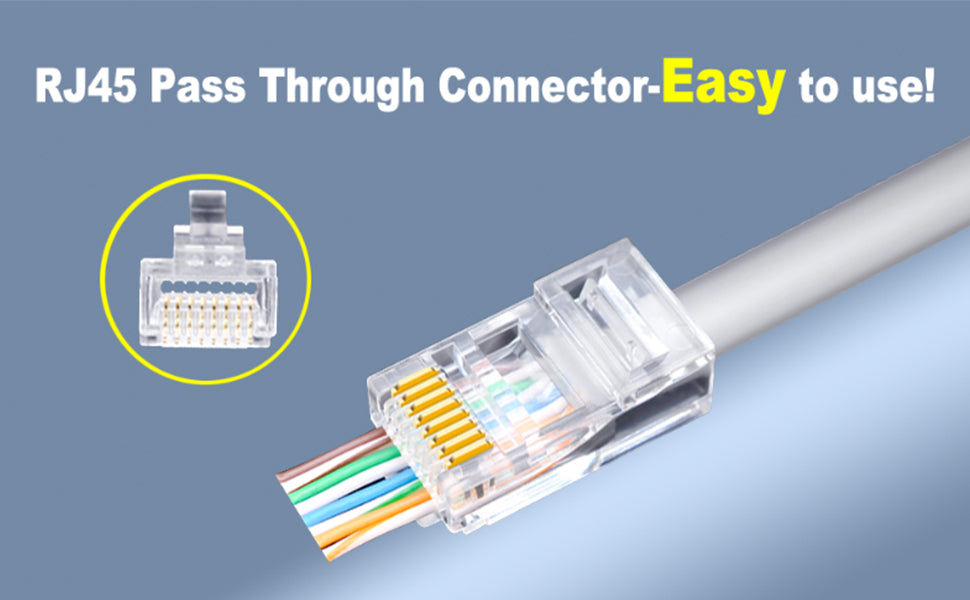 SPECIFICATIONS
ELECTRICAL:
Ul Applications: 250 Volts Ac Max. At 2 Amps.

Dielectric Withstanding Voltage : 1000 Volts Ac. 60 Sec.

Insulation Resistance: 500 MΩ.

Contact Resistance: 20mΩ Max.

Operating Ambient Temperature: -20°c ~ 75°c.
MATERIAL:
Housing: Polycarbonate, Ul94v-0 Or Ul94v-2.

Color: Transparent.

Contact Blade: Copper Alloy.

Gold Plating: 50u.
MECHANICAL:
Strain Relief: 20pound Min.

Durability: 1200 Mating Cycles.
3 Prong Design

 


3-Prong Blade ensures closer combination between the contacts and the wire core than 2-Prong Blade.

50u gold-plated contacts provide faster speed with less interference.

 


High Quality Construction

 


Strong mating clip for frequent unplugging.

High-Transparency shell allow you to identify wire sequence, eliminate scrap and improper crimps.

 


Easy to Use

 


You can use them on both solid and stranded cable.

Pass-thru design simplifies terminations as wires are inserted through the connector and out the other side.

 

Pass Through Connector Crimping Tool Suggestions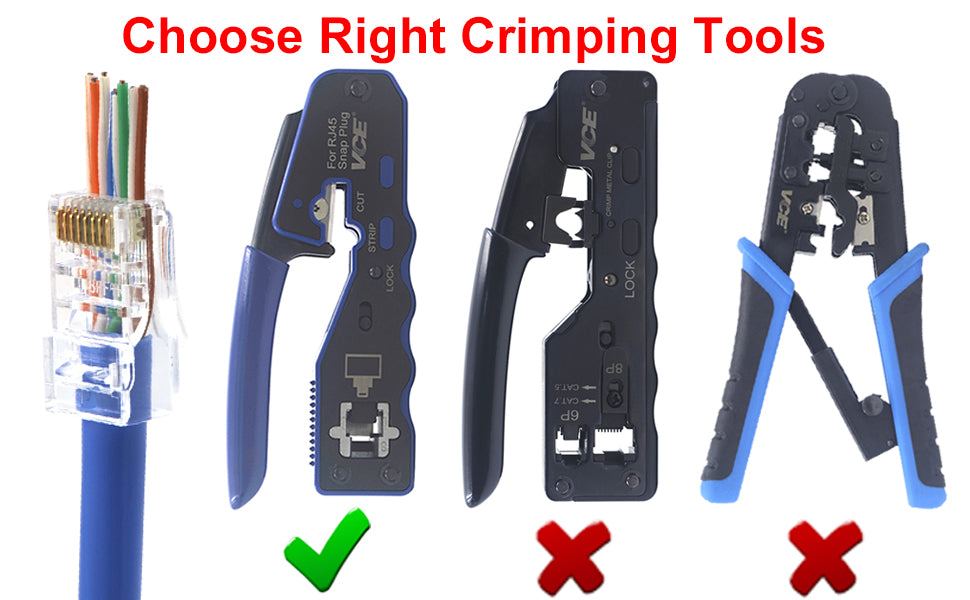 Use

 

RJ45 Pass Through Crimping Tool

 

will help you crimp the CAT6 EZ Connectors easily, also let you cut the extra wires of your connectors

Please search B07TT5J2WJ, the first crimper from left.