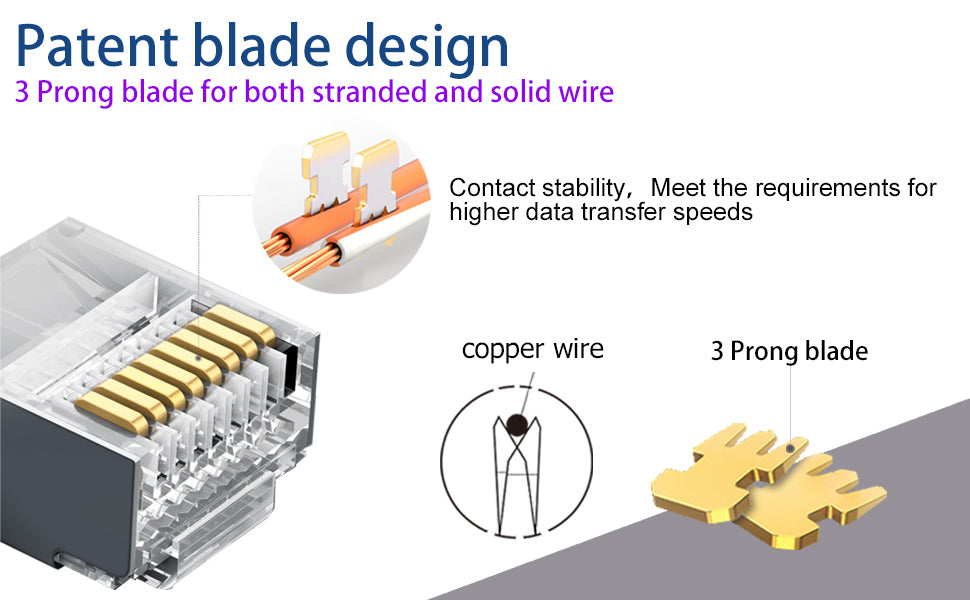 VCE Shielded RJ45 Cat6A/Cat7 Connector With Strain Relief Boot
VCE Shielded Cat 6A / Cat 7 Modular Plug is designed for sensitive or harsh environments that require security with protection against electromagnetic and radio frequency interference (EMI/RFI) noise and alien crosstalk.

Secure termination for shielded or outdoor-rated cable with an IP camera or security camera installation.
CAT6A & CAT7 Shielded Termination Solution
High-performance shielded housing for Cat6A / Cat7.

Three-point staggered contacts enhances alignment with the conductor and meets the requirements for higher data transfer speeds.
STP & FTP & UTP Cable Compatible
Supports shielded and unshielded cable.

Supports 23-26 AWG solid or stranded cable,for wire core OD 1.35~1.45mm,

 

AWG and OD MUST BOTH meet the requirements.
SPECIFICATIONS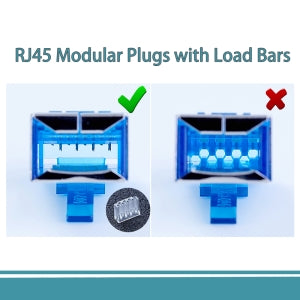 MATERIAL & FINISH:
Housing: Polycarbonate, Ul94v-0 Or Ul94v-2

Color : Transparent

Contact Blade: Copper Alloy

Conductor : Stranded & Solid Wire.

Gold Plating: 50u"

an Be Used For The Wire Od FromØ 1.35~Ø1.45
UL applications: 250 Voltis AC.Max AT 2 AMPS

Dielectric withstanding voltage : 1000 Voltis AC. 60 SEC

Insulation resistance: 500 mΩ

Contact resistance: 20 mΩ MAX

Insertion cycles: 20 cycles/minute max

Strain relife: 20pound Min

Durability: 1200 mating cycles
High Quality Construction

 


Strong mating clip for frequent unplugging.

Nickel-plated shield structure provide perfect protection from interference.

50 micron gold-plated contacts provide faster speed with less interference.

 


Cost-Effective 50-Pack

 


Load bars for arranging wires.

Strain-relief boot to protect the modular clip.

The strain relief boots compatible with cable OD 7~8mm.

 


What You Get

 


50 x VCE cat6a/cat7 shielded rj45 modular plugs,load bars, and black strain relief boots.

1 × Quick Installation Guide

You can get replacement for free if quality problem.

 

With just one crimping tool , you can assemble the RJ45 Network cable yourself:
Put the plug into crimping tool and crimp plug

Make the clip and braiding shield, drain wire fully contacted.

Fix cable and complete