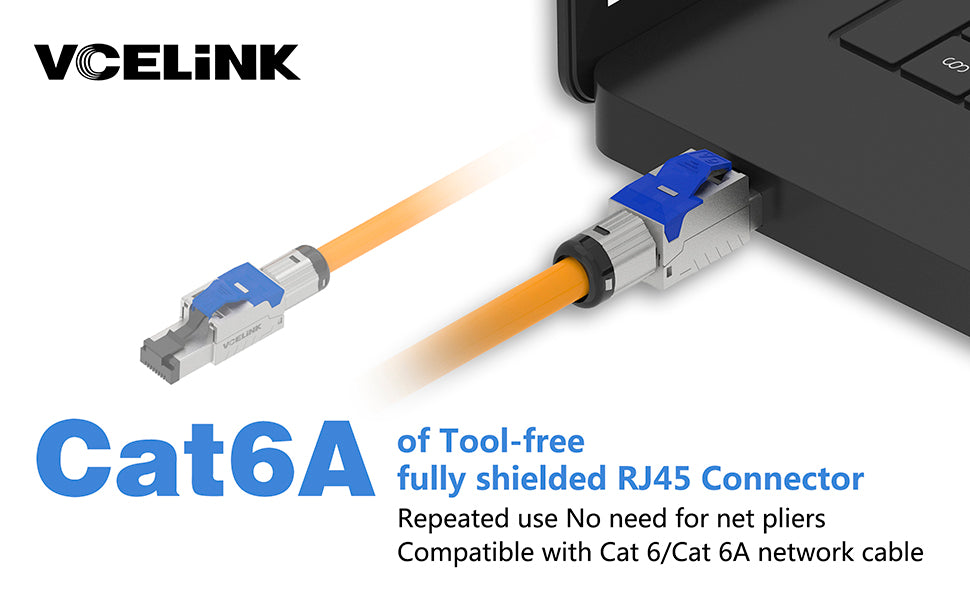 VCELINK RJ45 Ethernet shielded Connector for Cat6A Cat6 Cables - 10G Easy Internet Plug
Suitable for all types of devices with a standard RJ45 socket, such as RJ45 keystone jack, RJ45 network socket, R45 patch panel, etc.
Toolless Design
The VCELINK cat6a ethernet connector is designed for fast and easy installation.

No crimping tools are required for the entire installation process. However, you will still need a tool to strip the cable jacket and a normal tool to cut the core wires.
Reusable Design
This type of RJ 45 connector can be used multiple times.

Nut-Type strain relief boot is convenient to install and disassemble.
 


50µ gold-plated pins for best performance, improving the quality of the signal transmission

 


 


Easy to see 568a & 568b labelled wiring harness makes pin-out easy

 


 


Fully shielded solid iron housing protects the connectors and integrated silencing cylinder to prevent interference