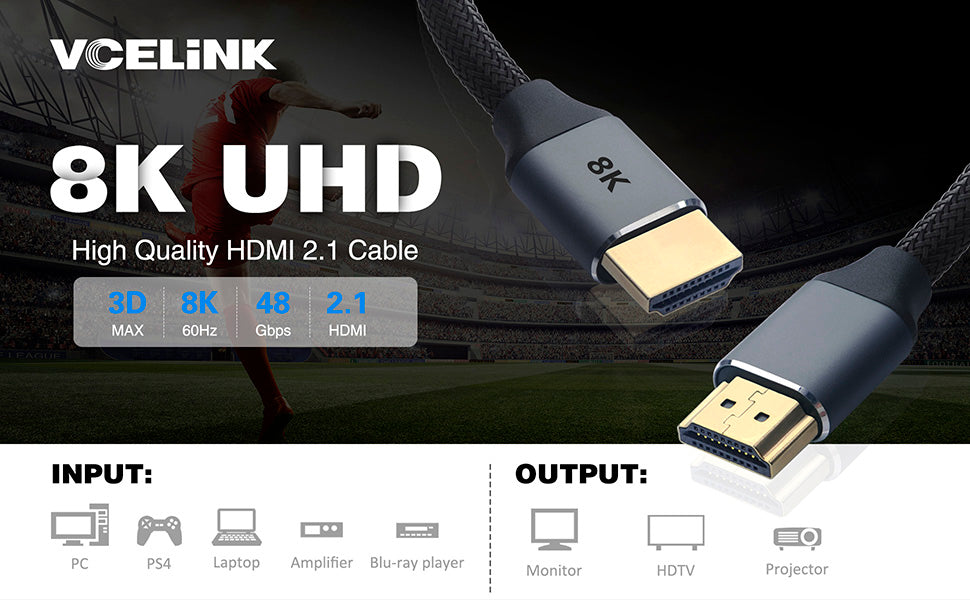 VCELINK Ultra High Speed HDMI 2.1 Extension Cable
8K Resolution:The resolution is up to 7680*4320, supports a wider 12bit color gamut, you can have a vivid vision experience
120HZ Refresh Rate:HDMI2.1 supports 4K@120Hz variable refresh rate so that the display and CPU can change the frame rate synchronously. The picture is smoother and does not delay
Dynamic HDR:High dynamic lighting rendering HDR technology, bring you advanced Dolby Vision experience
HiFi Sound : Enhanced audio return channel to provide high-resolution audio
Kindly Note
The HDMI 2.1 version is designed to be backward compatible with 2.0/1.4 . Just use it without concern

To get the most out of any 8K TV, you'll need actual 8K content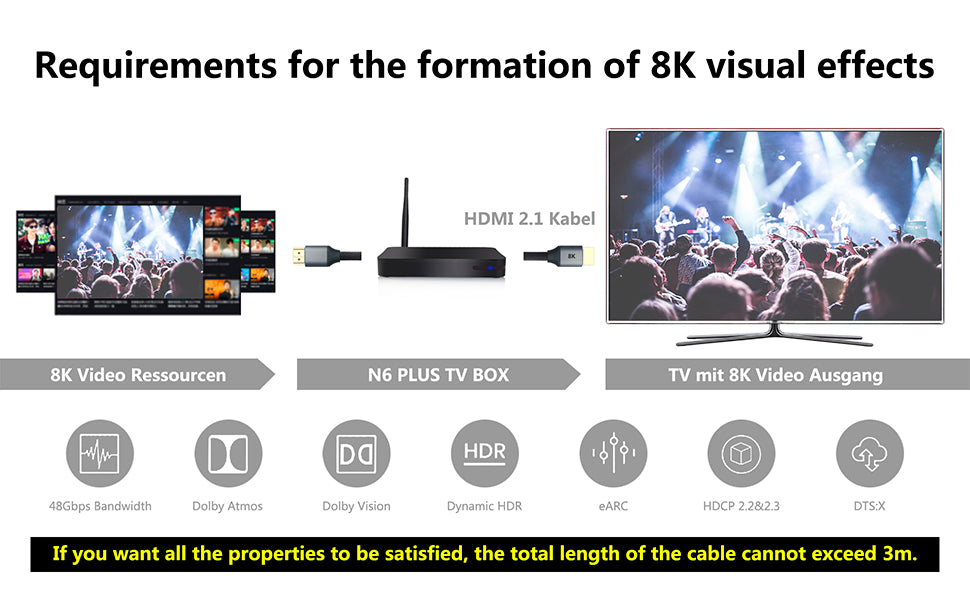 Dolby Vision
Enhanced Audio Return Channel (eARC): Let the TV directly transmit the high bit rate Dolby Atmos Dolby Atmos, DTS: X and other 3D surround sound audio to the A/V power amplifier receiver or echo gallery through the HDMI cable.

Variable Refresh Rate (VRR): Especially important for gamers, it can reduce the delay, stuttering and tearing of the picture.
Dolby Sound
Quick Frame Transfer (QFT): Mainly aimed at VR virtual reality, greatly reducing latency, making games and implementing interactive virtual reality smoother and smoother.

Automatic Low Latency Mode (ALLM): Automatically set the ideal delay to achieve smooth, lag-free and uninterrupted viewing and interaction.

Quick Media Switching (QMS): It can eliminate the delay that may cause a black screen before displaying the content.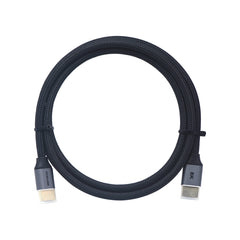 WHY CHOOSE VCELINK 2.1 CABLE
This HDMI Cable is 2.1 version with 48Gbps broadband speed,which can transmit more big data and the speed will be greatly improved.

7 mm wire diameter,with ultra-high anti-interference ability. 5FT(1.5m) long is the best choice for you. The longer the length, the copper wire will be thinner,which will get more transmission signal loss.

This Braided HDMI Cable can better ensure the internal safety of the cable. At the same time, the vcelink HDMI cable can be bent 90 to180 degree, which has strong bending resistance.

Pure copper core, 24k gold-plated connectors and pins,all material must conform to RoHS standard of europe.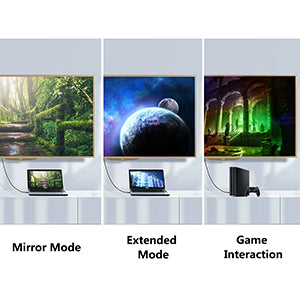 Multifunctional Application
Mirror Mode: Small screen becomes big screen, display device and output device display synchronous screen
Extended Mode: Multi-task split-screen operation, work and entertainment meet different needs
Game Mode: Game interactive mode, 48GBPS broadband, 4:4:4 color space, HDCP2.2/2.1 HD protocol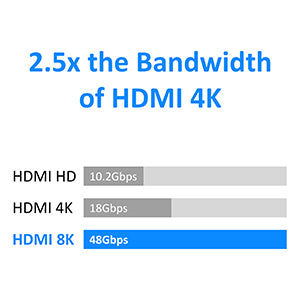 48Gbps Speed Transmission
Compared with the previous HDMI2.0 version, the HDMI 2.1 standard has a large bandwidth improvement from 18Gbps to 48Gbps, and it can display 8K@60Hz pictures with just one cable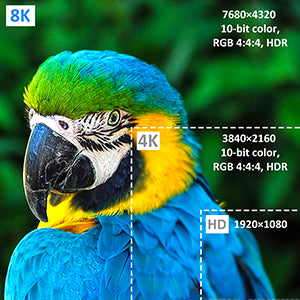 Dynamic HDR-Exclusive for 8K HDMI
Ensure that every scene and even every frame of the video shows the ideal value of depth, detail, brightness, contrast, and a wider color gamut