Description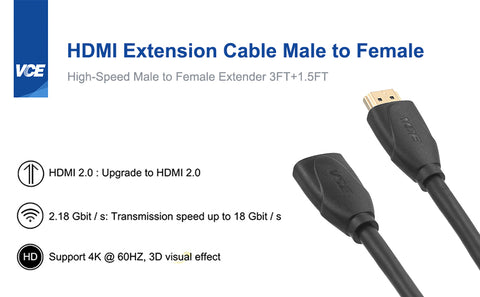 VCE High-Speed HDMI Male to Female Extender Cable
Extend a short HDMI Cable to connect any standard HDMI devices.

Protect HDMI interface from repeatedly plugging and unplugging.

Combine both audio and video into one.
Improve Your Home-Entertainment System
Supports 4k including 3D, full 4K*2K UHD viewing with digital transfer at rates up to 18Gbps - for excellent picture quality.

Backwards compatible with 3840x2160, 2560x1600, 2560x1440, 1920x1200 and 1080p Full HD.
What You Get
1 x VCE HDMI Male to Female Extension Cable(3 Feet).

1 x VCE HDMI Male to Female Extension Cable(1.5 Feet).

You can get replacement for free if quality problem.
Widely Compatibility
The HDMI Male to Female cable compatible with any device that has an HDMI Interface as well as being backward compatible with all previous HDMI standards.

Ideal for your PC, laptop, Blue-ray/DVD player, Apple TV, 3D Television, Samsung TV, HDTV, AV receiver, Roku streaming-media player, HD cable box, Oculus Rift VR headset, PlayStation VR headset, gaming station (like Play Station, PS3, PS4, Xbox One, Xbox 360, or Nintendo Wii or Wii U), other HDMI-enabled devices and many more.
Connect to the device you want
Connect your computer to other HD devices.

Gold-plated interface, more conducive to transmission, more corrosion resistant.

Triple shielding to enhance anti-interference.
Multiple Modes









Mirror Mode

 


Extend your display enjoy a larger screen

 


Extended Mode

 


The two screens show different content

 


Game Mode

 


Support game machine like PS3, PS4, Xbox One, Xbox 360, or Nintendo Wii or Wii U, etc.

Upgrade your game experience