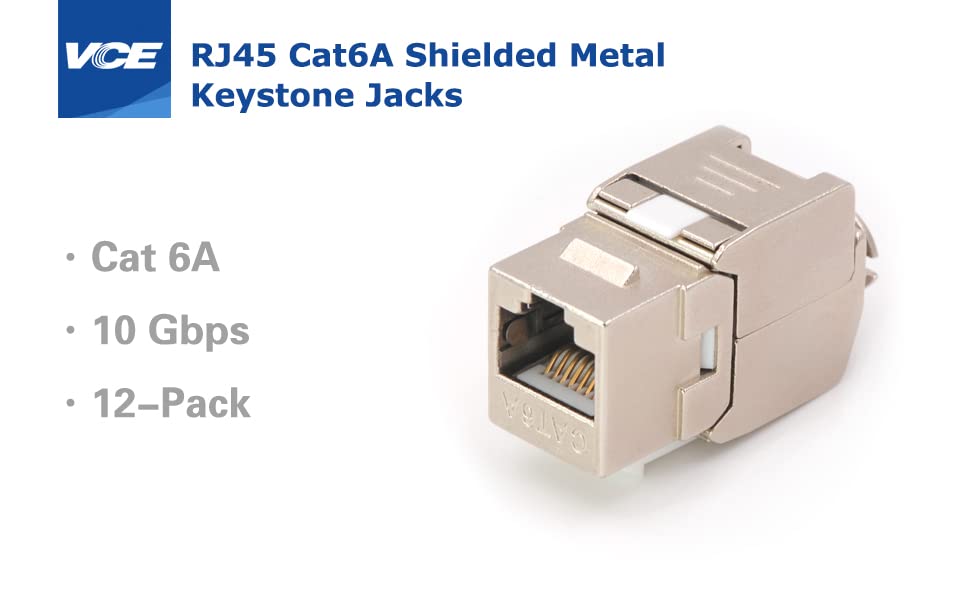 VCE RJ45 Shielded Cat6A Keystone Jack
The VCE Cat 6A shielded metal RJ45 Keystone Jacks are ideal for 10GBASE-T channel compliant networks up to 100m.

The 110-type terminations are color-coded with both T568-A and T568-B wiring schemes.

Included IDC caps offer tool-free or impact tool termination options.

The standard keystone face size fits patch panels or wall plates with standard keystone blanks.

Compatible with 22-26 AWG solid or stranded, shielded STP/FTP cable.
What You Get
 12 x VCE CAT6A Shielded Keystone Jack (UL Listed)
12 x cable tie.

1 x Quick Installation Guide.

You can get replacement for free if quality problem.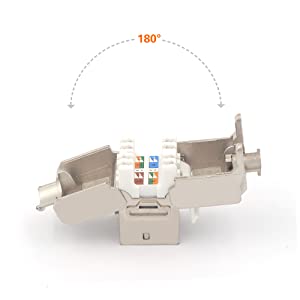 180 Degree Wide-Angle Design for 22 to 26 AWG Cable
Robust full metal construction against electromagnetic and radio frequency interference (EMI/RFI) and alien crosstalk.

IDC modules compatible with 110 tool and color-coded with both T568-A and T568-B wiring schemes.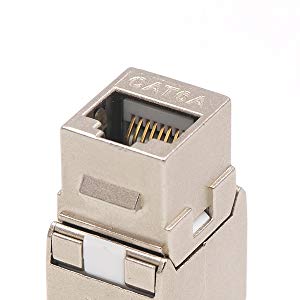 Quality Construction
Gold-plated contacts, providing more reliable connection.

Industry specifications for shielding effectiveness, durable and corrosion resistant.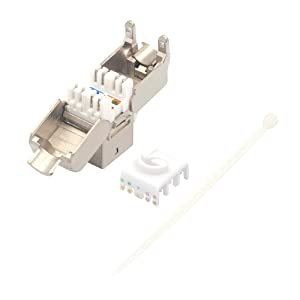 Easy to Use
Tool-less design with convenient wire separation for easy installation.

Color-coded labeling for T568A and T568B wiring schemes.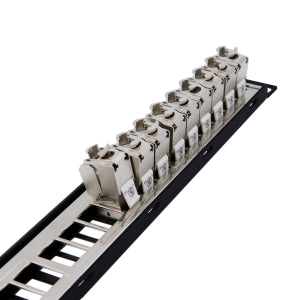 Shielded Cat6A Applications
Fit standard keystone jack slot.

Terminate in a shielded patch panel.

Applied to LAN work area, data communication , integrated wiring and etc.