VCE Network and Telephone Multi-Tool Kit
RJ45 RJ11 Ethernet Cable Crimping Tool
Compact design: 2/3 the size of traditional crimpers.

Crimp connectors on to CAT5,CAT5e,CAT6,CAT6A,CAT7 cable.

RJ-45 ( Data) and RJ-11 / RJ-12 (Voice) fixed die cavities.

Electroplate surface, handle and locking feature.
CAT6A & CAT7 Shielded Termination Solution
High-performance shielded housing for Cat6A / Cat7.

Three-point staggered contacts enhances alignment with the conductor and meets the requirements for higher data transfer speeds.

Supports shielded and unshielded cable.

Supports 23 AWG solid or stranded cable,for wire core OD 1.35~1.45mm, AWG and OD MUST BOTH meet the requirements.
What You Get
1

 

x VCE RJ45 RJ11 Modular Cable Crimper.
1

 

x VCE Mini Wire Stripper Cutter.

20 x VCE cat6a/cat7 shielded rj45 modular plugs,load bars, and black strain relief boots.

You can get replacement for free if quality problem.
The Ethernet Cable Advice

MATERIAL & FINISH:
Housing: Polycarbonate, Ul94v-0 Or Ul94v-2.

Color : Transparent Or Other Color Are Available.

Contact Blade: Copper Alloy.

Conductor : Stranded & Solid Wire.

Can Be Used For The Wire Od FromØ 1.35~Ø1.45

Gold Plating: 3u''~50u",are Available
The Modular Plug Specifications
UL applications: 250 volts ac max., at 2 amps.

Dielectric withstanding voltage : 1000 volts ac.

Withstand voltage time: 60s.

Insulation resistance: 100 mΩ.

Termination: resistance 20mΩ max after environment testing.

Cable-to-plug Tensile Strength : 20pound Min.

Durability : 200 Mating Cycles.
With RJ45 cable cap connector boots, protect the connector of the cable and prevent dust and water from entering the plugs.
Operating Instructions

How to make the rj45 cable:
1.Put the cable into the stripper.
2.rotate the mini wire stripper around the cable.
3.Put the wires into the load bar in turn (by the rj45 order of T568A or T568B ), cut the wires horizontally.
(If you want to crimp the rj11/rj12 cables,the wires order is different with the rj45 cables.)
4.Assemble plug.
5.Press down the handle and roll out the lock button from the back to unlock.
6.Regulating screw fit for cat5 or cat7.
(If you want to crimp the rj11/rj12 cable,ignore this step.)
7.Put the plug into the crimping tool,then crimp plug.
8.Lightly press the tail to the middle,then use the dovetail clamp crimping.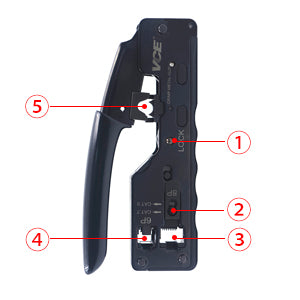 The function of tool
1.Lock Button
2.Regulating Screw for Cat5/Cat5e/Cat6/Cat6a/Cat7
3.8P8C,RJ45 For Ethernet Cable
4.6P6C,4P4C,RJ11,RJ12 For Telephone Cable
5.Dovetail Clip Crimper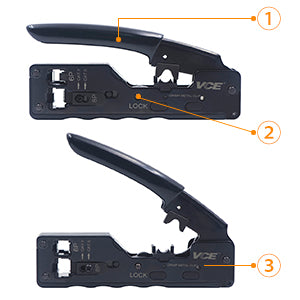 Unlock first when using
Press down the pvc non-slip handle

Roll out the ' Lock ' button

Unlock state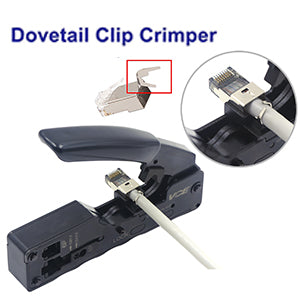 Crimping dovetail clip
Lightly press the tail to the middle

Use the dovetail clamp crimping.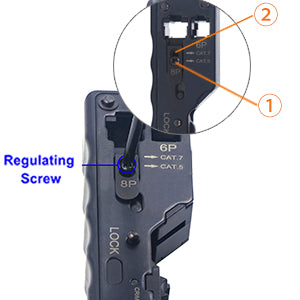 Easily change the mode by screwdriver
Cat5 : fit for cat 5 , cat 5e,cat 6 plugs.

Cat7 : fit for cat 6a , cat 7 plugs.