VCE Single Gang Low Voltage Mounting Bracket Device
VCE 1-Gang low-voltage wall plate mounting Bracket is designed specifically for the installation of low-voltage cables and wires in walls.

Drywall Horizontal or vertical mounting. Great for Wire Brush, Pass Through Holes.

Backless to accommodate deep devices and bend-radius requirements.

PVC construction for durable performance.
Note:
These mounting bracket can be fixed to your wall without screwing too tightly.

Flexible bracket design for adapting to high or low temperature, it can avoid cracking effective.

Out of shape doesn't mean flimsy or low quality, please rest assured use!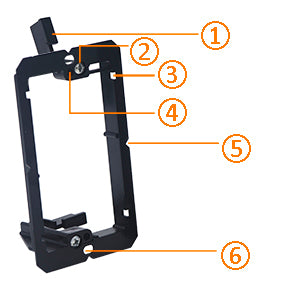 Single Gang Low Voltage Mounting Bracket
Wing Design

Provides Secure Mounting of Bracket

Thin Front Lip

Recessed Screw Hole

Notches

Oval Hole
Easy to Install
Step 1

Locate position, level bracket and trace a line inside of bracket.

Step 2

Cut on the outside of the line your drew.

Step 3

Dig a hole on the drywall or plasterboard.Put the bracket in the hole and tighten it with screw drivers.

Step 4

Feed wires through.