Description
Date first listed : August 5, 2020
FREE Shipping on orders over $100.00 shipped by Uleey.
Arrives:
Tue, September 1
Fastest delivery:
Wed, August 26
Uleey RG6 F Type Female coaxial couplers providing spare or replacement Adapters to use on different audio systems.
This

Uleey 

90 degree F-type adapter is easy to install and disassemble and is a perfect choice for DirectTV and Dish Network at up to 1 GHz
RG6 coupler for extending the length of RG6 coaxial cables
Acting as an adaptor on a video or satellite box to convert a Coaxial male output into a a coaxial female output.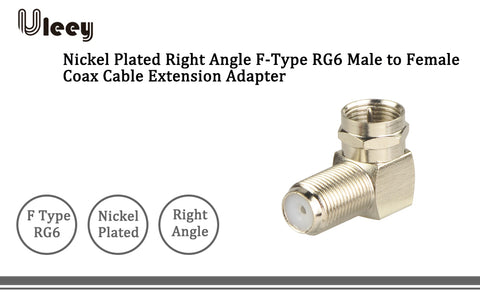 The Uleey right angle F-Type coaxial RG6 adapters provide a secure and quick way to connect RG6 coaxial cable to your UHD TV.
Right angle design is ideal for wall mounted TVs which can easily run cables in tight spaces.
Cost-Effective 3-Pack
This easily and convenient 3-Pack provides spare extension for a bedroom and basement location.









 

Nickel-plated F-Connector housing

Standard F-81 connector port

 

 

Easy to install and disassemble. Simple screw on installation with no tools required.

 

 

90 Degree right angle can reduce stress on the input jack and improve connectivity, solve your problem of connecting devices in tight places.