VCELINK Professional crimping tool for insulated terminals
Various possible uses
Our insulated terminal crimping tool is practical and extensive. Whether in the furniture, office, electric welding or electrical industry or in other industrial sectors.
Precise Crimping Pliers
high-precision terminal crimping holes, which means that the terminals can be pressed onto the wire without damaging the terminals.

Red 22–18 AWG(0.5 - 1 mm²) , blue 16–14 AWG(1.5 - 2.5 mm²), yellow 12–10 AWG(4 - 6 mm²)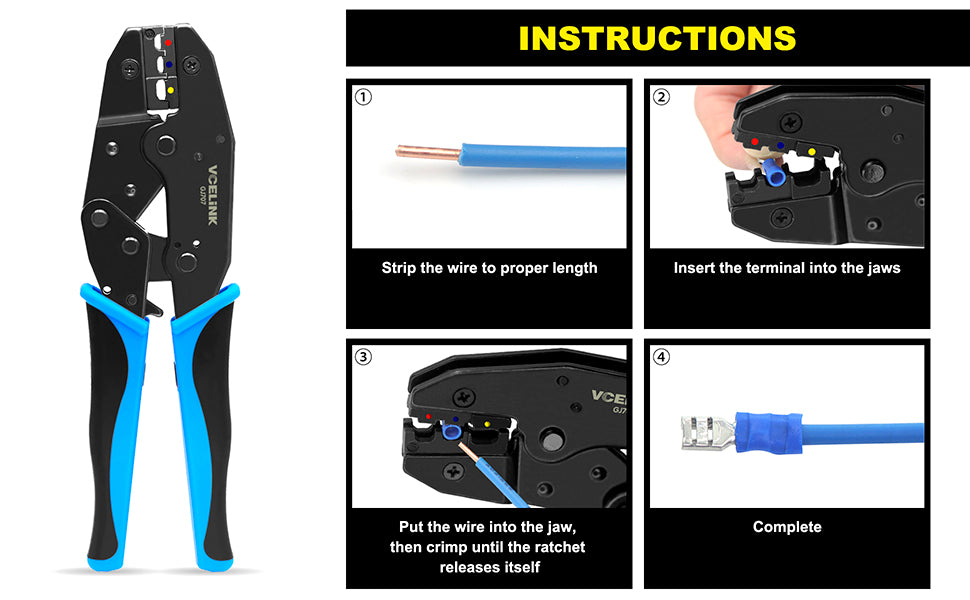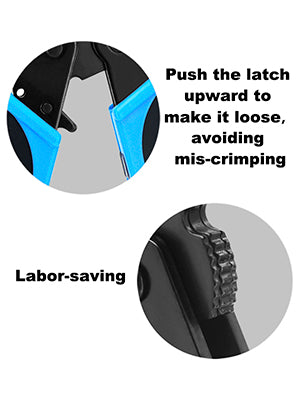 Quick Release Trigger & Ratchet Structure Design
This crimping pliers can be automatically unlocked to shorten the locking time, which can save up to 50% of the required manual pressing pressure.

Consistently high crimping quality thanks to the automatic lock (unlockable) and ratchet function for even contact pressure.
Saving 50% of the human body's manual pressure.

If the pliers get stuck by the terminal during use, you can pull the trigger to release the jaws.
Simple one-handed operation
Built-in ratchet ensures full-cycle crimping for a uniform crimp every time

Automatically opens when the crimp is finished
Ergonomic handle

 


Non-slip surface protect your wrist from injury during using.

It is an indispensable tool for an electrician

 


Multifunctional crimping tool

 


Made from high carbon steel sheet, non-deformable and non-bendable, the PP handle is oil-resistant and easy to use, and the rubber is hardened and blackened to protect it from wear and oxidation.

 


Stable connections

 


The crimped connectors grip the cable ends firmly and can be connected securely which creates secure cable connections.